Technical Article => Operating System =>

Windows
Windows 8 launch event data
---
Today on Microsoft Windows 8 launch event, Microsoft CEO Steve Ballmer and Windows manager Steven Sinofsky shared with us some data. Let's see what's happening to Windows.
Since launch, Windows 7 system gains a total of 670 million upgrade and 400 million new PC installed with Windows 7.

Microsoft's cloud storage service Skydrive, 200 million users share 11 billion photos and 550 million documents. new 2PB file uploaded monthly.(1PB = 1024TB)

Windows 8 has been tested in 190 countries for 1.24 billion hours.

Windows 8 to reconnect the WiFi only needs one second, while windows 7 takes 15 seconds.

There are over 1000 Windows 8 PC certifications , about 16 million devices already installed Windows 8 Beta;

Windows 8 upgrade has begun, the lowest price is $39.99, it can be upgraded to the Professional Edition, Windows XP, Windows Vista and Windows 7 users can download the new version.

Touch-screen version of Windows RT price is $499 and up.

The Windows Store is available in 231 markets around the world.

Microsoft Windows has a powerful ecosystem, including Office, Bing, IE, outlook.com, SkyDrive, Skype and Xbox, etc.
The Microsoft Surface is also going to be launched. Please wait patiently for the surprise brought by Microsoft.
Source : http://www.36kr.com/p/163307.html
RELATED
---
0

COMMENT
---
---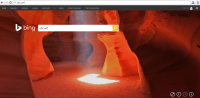 By sonic0002
When you type abc.xyz, you will see the homepage of Alphabet, the new parent company of Google. But what if you type abc.wtf in your browser address bar? Go and give a try and don't forget to give us a like.