Technical Article => Career =>

Career
Looking for a Job? Learn Ruby, Python and be a Team Player!
---
What makes a great software engineer and perhaps more importantly, what skills will most likely land you a sweet job? Mixtent and KISSMetrics analyzed LinkedIn data and surveyed users on perceptions of candidate skill levels based on their profiles and purported skill sets.
The key findings?
Python engineers are perceived as better engineers
Engineers with teamwork, dedication and a solid work ethic are perceived as better engineers. Creativity and communication skills are less valued.
Ruby engineers are viewed a good front-end, as well as back-end engineers
Hiring Managers – do you agree with the findings of this study? Do you find yourself making these kinds of decisions between candidates?
Developers & Data Scientists - got some awesome Ruby, Python and Hadoop skills and want to join a strong, dedicated team with a solid work ethic? Check out our current job listings.
Source:http://blog.infochimps.com/2011/12/05/looking-for-a-job-learn-ruby-python-and-be-a-team-player/

RELATED
---
0

COMMENT
---
---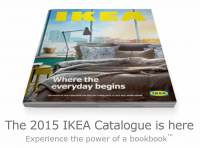 By sonic0002
IKEA 2015 Catalogue bookbook. Download a free copy or upload yourself to IKEA. Give you an advice, IKEA, be careful of the DOS attack. If you are in mainland China, please watch the video IKEA Bookbook. To be honest. A very creative design.It gets over 10 million visits in less than 15 days.