Technical Article => Other =>

Other
Here Are The 10 Highest-Paying Jobs At Google
---
South African job listing site JobVine compiled the following chart of the top ten salaries at Google, compiled from Glassdoor.
The top pay is for contract positions leading software development. It's not uncommon to see contractors earn more salary than full-time employees at big tech companies, because they're often not able to get stock options and perks.
For jobs within the company, it looks like directors of product management are the highest paid, which is fitting with Google's new emphasis under Larry Page on product over engineering.


Read more: http://www.businessinsider.com/here-are-the-10-highest-paying-jobs-at-google-2011-10#ixzz1almuqKf2
RELATED
---
0

COMMENT
---
---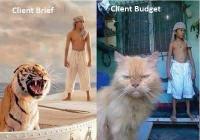 By sonic0002
Sometimes plans are quite different from realities. This is true especially in IT induestries. Usually when a client starts to present their plan, they have a really great vision. However when comes to the budget, the client runs into difficult.